Podcast episode 8: Germans have the perfect word for how work should feel: 'Arbeitswelt'
January 6, 2022 9:47 am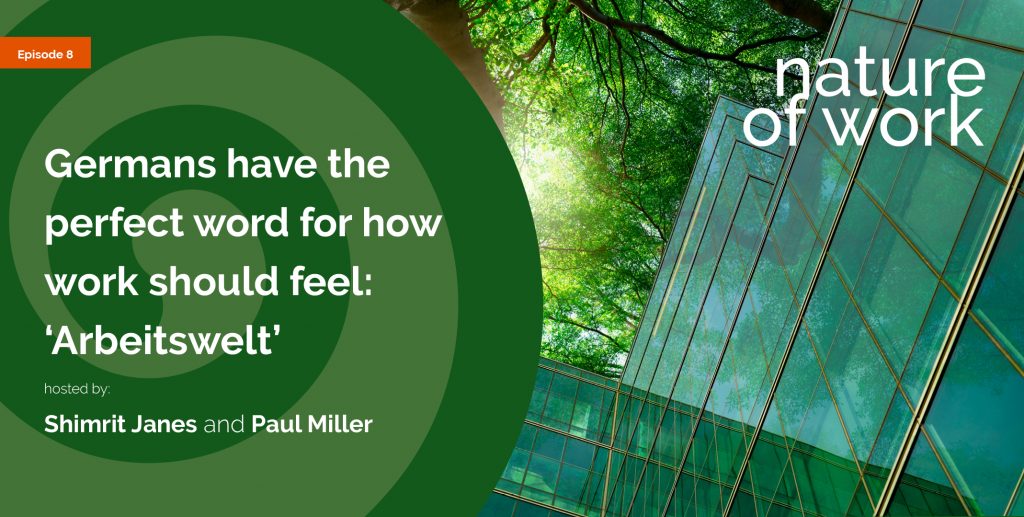 ---
---
The past two years have sharpened our focus on topics such as empathy within the workplace, and helped to accelerate others, such as the physical and mental health of ourselves as well as our colleagues around us. Much has already changed, so what will the next generation of workspaces look like?
In this episode, Paul and Shimrit are joined by the formidable Christine Kohlert – author, architect and professor. Christine shares her insights from her extensive research and experience, and offers us a glimpse of a more beautiful way to work.
Aligning with the 'Habitats' element from the book Nature of Work, their conversation covers everything from the beauty and power of biophilic design to the functional and clever furniture that can enhance our working lives. This bright and optimistic discussion will leave you dreaming up your ideal workspace.
---
---
Show notes, links and resources for this episode: 
Space for Creative Thinking: Design principles for work and learning environments, by Christine Kohlert and Scott Cooper
Digital Workplace Impact episode 19: How and why physical workplaces change the way we work (with guests Christine Kohlert and Sally Augustin)
About Digital Workplace Group
Digital Workplace Group (DWG) is a strategic partner, covering all aspects of the evolving digital workplace industry through membership, benchmarking and boutique consultancy services. We provide independent guidance to more than 100 leading corporates and public institutions to advance their intranets and broader digital workplaces through peer learning, impartial evaluations, research and practitioner expertise.